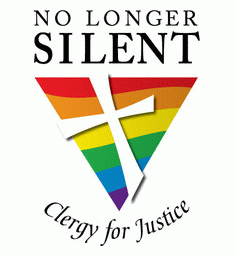 (Hat tip to
Box Turtle Bulletin
)
Given the countless fundamentalist Christian voices that are promoting homophobia, it's fantastic to find people of faith supporting the LGBT community. Through a post at Box Turtle Bulletin, I learned about an Arizona-based group of Christian clergy called
No Longer Silent: Clergy for Justice
that acknowledges the rights and dignity of LGBT persons.
The organization's website is a refreshing (and vitally important) reminder that right-wing Christians do not speak for everyone in the faith community. In their
mission statement
, No Longer Silent rejects fundamentalist homophobia and advocates for full acceptance of the LGBT community:
The time has come to share an alternative Christian perspective on the issue of homosexuality. Conservative political and Christian rhetoric condemning homosexuals has monopolized public perception of the stance of religious persons on this issue. We disagree with these views of condemnation and judgement.

We believe that homosexual persons are people of wholeness and worth, entitled to a complete and full life. We are convinced that the Bible makes clear God's unconditional love and acceptance of all people. We therefore welcome homosexual persons, as we welcome all people, into our Christian communities and organizations.

We regret that the judgemental pronouncements of some political and Christian leaders have characterized homosexual persons as inherently more sinful and/or immoral than their heterosexual counterparts. We disagree with these views, and feel that interpretations of the Bible used to support such views are inaccurate and incomplete. We believe that homosexual persons are no more sinful and are of equal character and personal integrity as any other group of people.
Earlier this year, over 160 clergy signed the organization's
Phoenix Declaration
, affirming their support for non-homophobic interpretations of Scripture, their support for LGBT persons, and their categorical rejection of intolerance. No Longer Silent also embraces the
Phoenix Affirmations
, a list of theological affirmations created by CrossWalk America that is infused with progressive values.
I want to give a warm
THANK YOU
to No Longer Silent: Clergy for Justice for their honorable work. Thank you for supporting LGBT rights and denouncing bigotry.
Below is a video documenting No Longer Silent's demonstration at St. Mary's Basilica in Phoenix, Arizona, in protest of the Diocese of Phoenix's support for the right-wing
Manhattan Declaration
. (Click
here
if you're having trouble viewing the video.)